COMPUTER REPAIR St George UT $25 hr on-site by ABC Rent A Geek, the premier Computer Repair and Service leader located in at 55 N. Main St George, UT.
ABC Rent A Geek Computer Repair services St George, UTAH and also serving all of Southern Utah and Nevada.
We have been providing Computer Repair and Service in ST GEORGE for over 25 years.  Data, Network, Printers, SMART TECH MEDIA and internet service repair.
We can fix anything tech related.
We eliminate the frustration of computer repair FOR PC or Mac with same day service in St George.
No more unplugging everything and hauling it to the store. We come to you on your schedule and provide Computer repair and new equipment install for anything technology related.  
Our Technicians arrive on site with over 20 years of computer repair experience, are knowledgeable of current threats and issues interrupting or slowing your computer performance.  ABC Rent A Geek technicians will solve internet service provider issues so you are back online with your computer in no time.  We can solve any of your technology issues.
Customer satisfaction is AAA+
What We Do
Dedicated computer repair professionals will come to your home or business and fix any PC or MAC problem. Any make, any model.  Install any of your technology related products.
We remove Viruses, Malware, Trojans, Root-kits, bots.  Recover lost data files, pictures, documents and transfer files to a new computer.  We make your computer or network run faster and more efficient.
Our goal
Provide timely and cost effective help with all your computer service repair, technology and recovery needs. Call today (435) 628-0951 and we will dispatch a technician to your location.
We can also meet you at our computer service and repair center located at 55 N Main St. George, UT 84770
See what a difference over 25 years of experience makes!
* Free consultations      * Award-winning service    
* Satisfaction guaranteed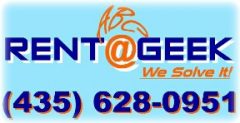 Latest Viruses & Malware
* Apple Mac Guard and Flashback
* Apple Flame in Windows Module
* Windows High-End Protection  * Windows Recovery Series
* Windows Safety Checkpoint  * iSecurity  * Windows Premium Guard
* Windows Efficiency Accelerator  * Windows Performance Adviser
* Windows Pro Rescuer  * Windows Safety Toolkit  * Windows Antivirus Care
WE CAN REPAIR ALL
RANSOM WARE – AD BOTS – WORMS – BROWSER HIJACKERS – META DATA HARVESTERS – IDENTITY THEFT KEY LOGGERS – SCARE WARE TO CALL
FIX IT TODAY! ABC RENT A GEEK 55 N MAIN ST GEORGE, UT 84770
#1 COMPUTER REPAIR AND SERVICE IN SAINT GEORGE UTAH
Computer Repair Center Services:
Computing Hardware Repairs
Computing Hardware Upgrades
Smartphone Repairs
Soft Services
Virus & Malware Removal
I.T. Support
Services
Prices
Diagnostic
Hardware & Software Diagnostic (Fee waved and applied towards other services performed by ABC RENT-a-GEEK ST GEORGE)
$39.00
Computing Hardware Repairs
Hardware Repair (Minimum of 60 minutes, thereafter repair is prorated at $20 per .5hr or 25hr > than)
$25.00hr + Travel Time & Cost of the Hardware
HardDisk Drive Repair (HDD or SSD)
$60.00
Computing Hardware Upgrades in addition to services
RAM/Memory Installation & Replacement
$25.00 + Cost of RAM
HardDisk Drives Installation & Replacement
$25.00 + Cost of HDD
SolidStateDisk Drives Installation & Replacement
$25.00 + Cost of SSD
Mobile Device Repairs
Network & Internet
20-25% less expensive than average Online or Retail Store,
repair cost varies by device
Soft Services
Windows Operating System Reinstall – NO Data Backup
$115.00
Windows Operating System Reinstall with Data Backup
(Requires customer to specify files & folders to backup)
$150.00
Apple OS X Operating System Reinstall – NO Data Backup
$70.00
Apple OS X Operating System Reinstall with Data Backup
(Requires customer to specify files & folders to backup)
$115.00
Data Backup
$85.00
Data Recovery – Failed HardDisk Drives base
$105.00
Software Installation
$30.00
Virus & Malware Removal
Level 1 (Basic scan & basic removal techniques)
$60.00
Level 2 (Advanced removal techniques that Level 1 won't fix.
Rootkits, Hijacks and other complex infections)
$85.00
TIER II ADVANCED SUPPORT starts at 35.00 hr at 2 hr min – Code and advanced systems Includes, BOTS, ELEVATED REGISTRY SOLUTIONS AND WEB RECOVERY.